Who We Are
Thank you for choosing ourweb for your email and web hosting needs!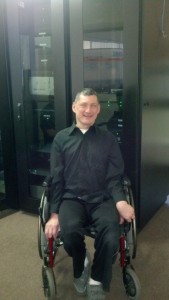 My name is Bill Banks.  I started Ourweb in 1995. I will be  your webmaster and system administrator, and my job is to see that you enjoy the best possible service while you're online with ourweb. I graduated in 1987 from Worcester State College, where I received my Bachelors of Science degree in Computer Science. I have had Cerebral Palsy since birth and have not let that be the focus of my life. I am dedicated to making your online experience better.
You can contact Ourweb virtually anytime with your orders, questions and technical support issues.
My e-mail address is office@ourweb.net, but you can also send your support questions to me at support@ourweb.net .
Mailing Address
Wachusett Programming – Ourweb
9 Oakcrest Rd.
Holden, Ma 01520
(508) 829-2005
Server Locations
All servers are located in Haverhill, Mass.